5 Actionable Steps to Writing Effective Blog Content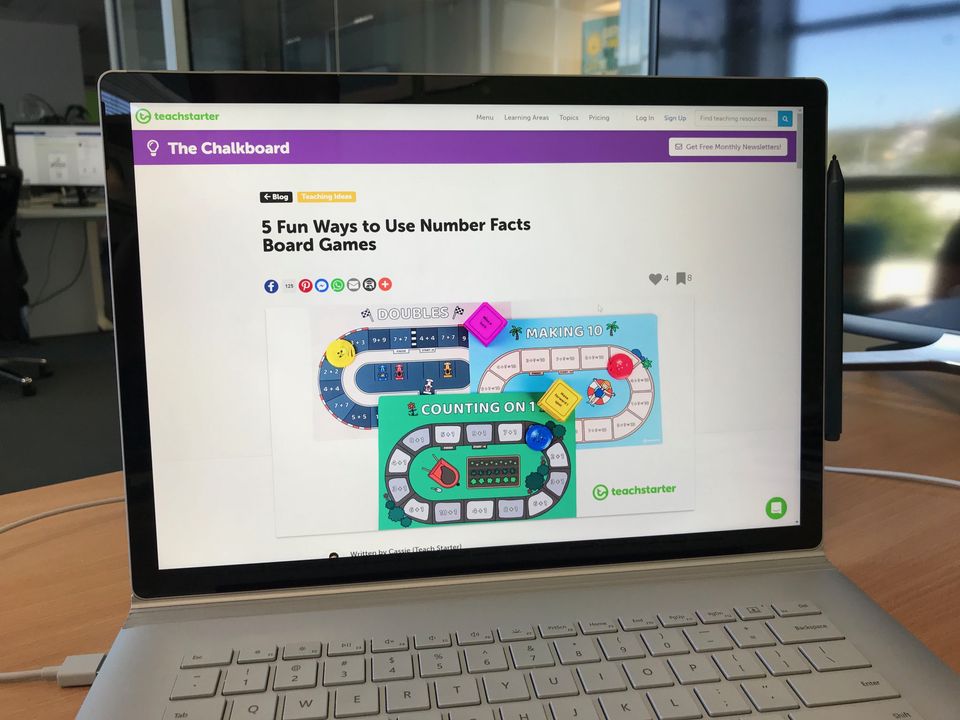 What is the purpose of writing a blog? I always say to the Teach Starter team that the number one reason should be to provide value to our readers— everything else is secondary.
However, all those things that come in second to value, are what turns great content into a great business advantage. It's the difference between creating great content and creating great, effective content.
Effective content ties in with your business objectives. It focuses on producing a desired or intended result. Typically, businesses hope that by writing a blog, they will increase traffic to their online store, which will have the flow on effect of generating more sales.
There are countless guides online about how to improve your content for SEO, however this article aims to share five practical steps that ensure you are writing quality content, consistently, and with maximum impact. This is a proven strategy that we have used at Teach Starter to increase organic traffic, social engagement and sales.
These tips are simple and effective, yet easily overlooked.
Before we dive in, here's an overview of the five steps:
Identify your customers' problems in the form of questions (think: what are your customers Googling?). This question becomes the headline of your blog.
Write a unique, high-quality article about the solution to the problem or answer to the question. Don't think about trying to sell your business or your products, think about the value you can provide to your potential customers.
Seamlessly weave in two or three hyperlinks to your other blogs, product pages or product categories. Link to your new blog from other pages too.
Do this regularly, at least twice a week… ideally every day (or more!).
Share the blog post on your social channels.
Let's get started!
Step 1: Identify a problem
Think about questions you've received from your customers. What problems do they have that can be solved by your expertise?
As an example, we're going to use a fictional online store that sells camping equipment. The camping store's customers might ask:
How do I hang a hammock?
Using this example, you could start with a blog headline like this: How to hang the perfect hammock: 6 tips to turn you into a pro
In this headline, we have highlighted their problem: How do I hang a hammock. We have also promised a solution that provides value: 6 tips to turn you into a pro.
We have created a clickable headline that promises value. Now we have to make sure we deliver. Otherwise, it's just click-bait.
We're also providing the answer to a search phrase a potential customer might type into Google: How do I hang a hammock?
This is the key to writing blogs that will rank in Google. You have to provide the answer to the question people are searching for. The goal is to get to the first page.
It's easy to think that you have nothing to write about. When you begin with your customers' problems, this process can be easier. Start by brainstorming a massive list of problems your customers have. Using our camping store example, you could think of things like:
Do your customers find it hard to make time to escape to the wilderness?
Do your customers find it difficult to quickly prepare the night before a weekend off the grid?
Is it hard for your customers to find the right tent?
After brainstorming this list, you will find an endless supply of blog articles.
Step 2: Write quality content
Writing a quality article is all about providing value.
'Value' could be in the form of entertainment, education or inspiration. In our example —How to hang the perfect hammock: 6 tips to turn you into a pro — you're looking to educate.
Write your blog in simple English. Simple and direct, with a dash of personality works really well.
Feel free to use first person to share your knowledge and personal experience. The beauty of personal experience is that it is unique to you, with the added benefit being that Google loves unique content.
Break up your blog with high-quality (ideally unique) images, videos, headings (H2, H3, H4 tags), paragraphs and quotes. Use ordered and unordered lists.
Make your text visually interesting to read. Walls of plain text often scare people away. If someone has clicked on your link from Facebook, they're likely keen to hit that back button in the top left-hand corner as soon as they're bored, so you need to ensure the content keeps them engaged.
Also, ensure that you have filled in all of the required meta-content so that your blog displays well on your website and on Facebook when it's shared. Blog posts missing featured images, intriguing descriptions or captivating titles are doomed to fail.
Step 3: Add hyperlinks
Adding internal hyperlinks is crucial. Hyperlinks tell Google (and people) where to go next to find more content.
This is one of the keys to building the Google page rank of your product pages. Nothing compares to external links (quality links from other websites), however, internal links are a great place to start — and they're entirely within your control.
There are, however, a few things to avoid:
Never hyperlink as a URL (it looks terrible, and doesn't mean anything to Google).
i.e. Click here to look at our hammocks: https://hammocks.com/collections/hammocks
Avoid verbs as hyperlinks ('Click here' gives no context to the content that the hyperlink links to).
i.e. Click here to look at our hammocks:
Initially, avoid linking broad terms (there's too much competition).
i.e. At Hammocks Online, we create hammocks and other outdoor equipment.
A good hyperlink ties into a search keyword phrase that your customers are searching for, you would like to improve your ranking in, and relates to your product. For example:
When your bag is stuffed full of all the essential equipment, a lightweight hammock is crucial.
In this example, we are targeting the keyword phrase 'lightweight hammock'. What we are hoping, is that a potential customer will Google 'lightweight hammock' and your product appears on the first page of search results.
This game is all about consistency. To begin, identify a list of 10 product keyword phrases that you want to target, then use them in your blog content. Over time, your Google ranking will increase. It's a slow, long game. I can't stress this enough; the key is consistency!
Ideally, you will have researched the search volumes and competition of keyword phrases and identified the phrases that you have the best chance of ranking in. There's plenty of keyword research tools out there that allow you to do this.
Also, you should add in hyperlinks from other pages to your new blog post page to maximise the chances of your new content being ranked higher by Google. Find product pages that align with your new blog post and then add in a hyperlink back to the blog. If a user is on your hammock product page, then chances are your newly written blog post would be useful to them.
You can also include a more obvious Call to Action. This can be something at the end of your article like:
Ready to tie up a hammock? Take a look at our range of innovative, lightweight hammocks.
You might decide that you would rather capture your readers on your mailing list to share more incredible value, before jumping in with a sales pitch call to action.
You could add something like this at the end of all blog posts:
Want to receive more outdoor hints and tips? Sign up to the Hammocks Online monthly email. Each month, you'll go in the draw to win a free hammock!
[Email form linked to Mail Chimp etc.]
The idea is that you are giving people a reason to give you their email!
Remember, value first!
Step 4: Be consistent
Post as consistently and as regularly as you can.
If your competitors are posting new blogs once a week. Do two or more blog posts a week and your traffic will improve 2x or 3x faster than them. You can't post one blog this week, wait two months, then post three in a week. It must be consistent.
This is 100% the hardest part. I still struggle writing my own blog once a week!
Keeping up the quality and quantity of blog posts is crucial. This alone can seriously make or break your content efforts. Always prioritise quality, however don't dismiss quantity. In my experience, the more blogs you post, the more traffic you receive.
Make a commitment to content and you'll see results.
Step 5: Share it!
Once your blog post is published on the website, share it on Facebook/Instagram/Twitter/Pinterest/Snapchat. Share it in your email newsletter. Share it everywhere!
This is where quality content comes to the fore. Forget SEO hacks; when you share your content you're asking a human to give you attention. This is all about value. And the more of it you bring, the more you'll be shared.
With this in mind, ensure that you have a great title, eye-catching featured image and an epic opening paragraph. Give your customers a reason to click!
Facebook is ultra competitive; everyone is vying for attention. If your content promises value, you're one step closer to a click. Some articles will be hits and some will be misses, it's all part of learning and improving your content strategy.
While hyperlinks will help to improve Google's ability to crawl your content (and allow your customer to find your products), sharing on social will give your blog post a boost. Articles rarely go viral from organic search, they do on social.
The Plan in Action…
Now that you've done all of this, here's the potential flow of your customers:
A customer sees your blog post on Facebook and clicks.
They read your article, your call to action and subscribe to your mailing list.
Two weeks later, they receive an email with five awesome blog articles packed full of value.
They click on the article about hammocks.
Reading the article, they click the internal hyperlink to see your lightweight hammocks.
They read the reviews about the product, watch the original product demonstration video you uploaded to YouTube, and with the trust you have earned through the value you have provided them, they decide to make a purchase.
Get Started!
This whole plan is an actual strategy you can implement immediately.
Organic SEO is crucial to a sustainable online store. The cost of acquiring new customers is often unsustainable when you're relying on paid acquisition, particularly at low product price points and profit margins. You need free customers! You have to be willing to stick with this for the long haul — for the life of your business, you have to produce regular content — it's the only way to be seen.
Like any good test, you must have numbers to back up the results. At Teach Starter, we primarily use Moz (keyword phrase research and search engine rankings) and Google Analytics (traffic, sources, conversions).
Using tools like Moz, you can track your keyword phrase rankings to see how your content is performing. You can also use tools to identify articles to write based on the competitiveness of other keyword phrases.
You should also be tracking sales and conversion data in Google Analytics. This is crucial to seeing the business impact of your new strategies.
That's it! Hopefully, this info helps to give you some inspiration and guidance to embrace a content-first strategy.